Need a high quality all-weather outdoor car cover for your vintage Volvo ?
Have we got a smokin' hot deal for you !!
We managed to luck into getting a few CoverCraft Evolution 4/Technalon® car covers at an unbelievable price. These covers are classified as "factory seconds" but only because they have a little spot or a bit of dirt on them somewhere. There's actually nothing wrong with the covers (i.e. no defects in materials or workmanship. The so-called "problem area" that makes them a "second" is often so minor you can't even tell where it is ! Besides, it's just a car cover after all and it's going to get a little dirty as soon as you use it. So who really cares about a little spot or tiny bit of dirt here and there as long as the cover does a good job of protecting what's underneath it from all the elements and you can save a bundle on the cover ? Not any sensible and practical thinking Volvo owner we've ever known.
The covers we have are made to fit cars between 14' - 15' long which makes them perfect for Amazons and 1800s. Normally these high-end covers usually sell anywhere from $170 to $235 USD, depending on the retailer. We're selling off these babies for only $109.95 USD (plus shipping) while quantities last. That's a savings of about 35 - 55% off standard retail prices! We only managed to get a few of these so don't hesitate too long to make up your mind and place an order. He who hesitates too long is going to miss out on a great deal !
Details on Covercraft's Technalon® covers:
Technalon® covers, made with Kimberly-Clark's Evolution® 4-layer non-woven polypropylene fabric, provide maximum protection in all weather conditions. Recent improvements include a stronger outer layer and softer inner layer. The inner layer is constructed with similar processes used for the Dustop™ material used in their interior storage covers providing gentle protection for fine paint finishes. Through extensive testing in Florida, Kimberly-Clark has confirmed that Evolution has the highest UPF rating of all their non-woven fabrics. This is important because UV rays are what damage both the exterior and interior of any vehicle. Block the UV rays - protect the vehicle!
Protection against the Elements: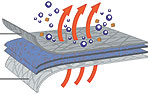 Innovative Evolution 4 fabric can take almost anything the elements dish out—nothing short of a tornado will do it harm. Water-repellant, non-absorbing fabric holds no moisture and dries quickly and easily yet is breathable allowing air and moisture vapor to circulate through the fabric allowing the car to stay dry underneath the cover. Dust / Pollution Barrier - The two middle layers of melt-blown fabric act as a filtration barrier against most airborne pollutants. Acid rain, industrial pollutants, tree sap and bird droppings will not harm the fabric.
Protection against Knocks and Scratches:
Strength, Durability and Attention to Detail:
Strong and durable double-stitched overlapped seams give these covers superior strength and shape retention qualities;
Neoprene elastic is sewn into the front and rear hems

to help hold the cover in place;

Reinforced grommets

include a protective flap on the backside to make them non-scratching and can be used with a tie-down rope or vinyl coated cable and lock (available from Covercraft and other on-line retailers).

Also has

Grommets for your car's Antenna
| | | | |
| --- | --- | --- | --- |
| | Double Stitched Overlapped Seams add strength and durability. | | Reinforced, non-scratching grommets have a protective flap on backside. |
| | Neoprene Elastic used in front and rear hems for better fit. | | Cover can be secured to vehicle using available lock & cable system. |
Click here to go to the Order Page